Look what has arrived for the Springwood Antique Fair I will be attending next weekend! My items from England are here and this is just a few of the beautiful things that will be on display at the fair.
Isn't she lovely? She is a Royal Doulton figurine and is named "Happy Birthday". Her dress is beautiful with insets of lace and is off -the-shoulder. She has a matching bow in her hair and is holding her birthday bouquet of flowers. She would make a wonderful gift or keep it for yourself. I just love her!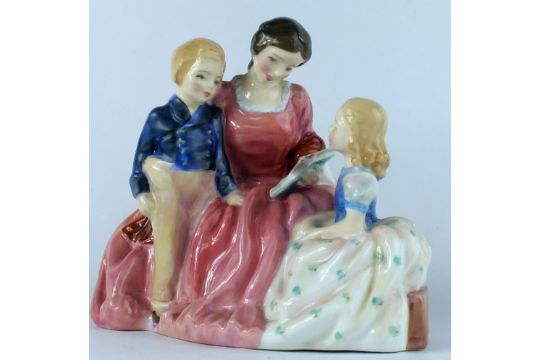 This is another of my newly arrived Royal Doulton figurines. This one is called 'Bedtime Story'. A mother is reading to her children. This would make a beautiful gift from a husband to his wife, a mother to her daughter or son , or grandmother to her daughter or grandchildren.  These are the gifts that people remember.
I also have some newly arrived Beswick dogs including the "Character" dogs. I'll post these in the next few days for you to have a look at.
Maggie